Check here each week for information to prepare your heart for the upcoming sermon and follow-up questions you can use after the sermon to dig deeper and disciple your family!
Posts Tagged "Power"
November 05, 2022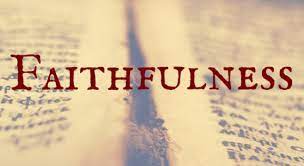 The Power and Faithfulness of God – Joshua 11-12
Notes:
1) Observing God's Power and Faithfulness
2) Living in Light of God's Power and Faithfulness
Digging Deeper:
How is God's power and faithfulness displayed through the Gospel? How will these qualities of God be seen at Christ's return?
What fears challenge your trust in the Lord? How do these fears get in the way of you moving forward in your walk with Christ?
What examples do you see of God's power and faithfulness in your life? How can you call them to mind throughout your days?
Other passages to consider:
Gen 15:16; Ex 23:29-30; 34:11-16; Num 33:51-54; Dt 20:16-18; Ps 121:2; Lam 3:22-24; Heb 3:7-8; 10:36; 2 Tim 1:7; Rev 11:15.