Check here each week for information to prepare your heart for the upcoming sermon and follow-up questions you can use after the sermon to dig deeper and disciple your family!
Posts Tagged "Apart"
February 11, 2023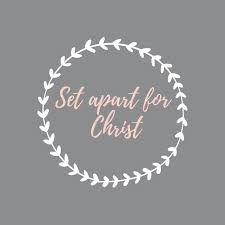 I am set apart for Christ- Colossians 1:2; 1 Peter 2:9-10
Notes:
What does it look like in your life to be set apart from sin?
Are saints an elite class of Christian? Give Scriptural support for your answer.
What price was paid for us to be redeemed? How does being Christ's possession impact the way you live?
Other passages to consider:
Rom 12:1; 1 Cor 1:2; 6:19-20; Eph 1:2; 2 Th 2:13-14; Titus 2:14; 1 Pet 1:1-2.